Seine Innopolis is the new standard for ICTs within the Rouen metropolitan area
From the largest industrial spinning mill in France in the 19th century, to military barracks in the 20th, in September 2013 the Tallandier building became Seine Innopolis, the flagship site for the digital economy of the 21st century.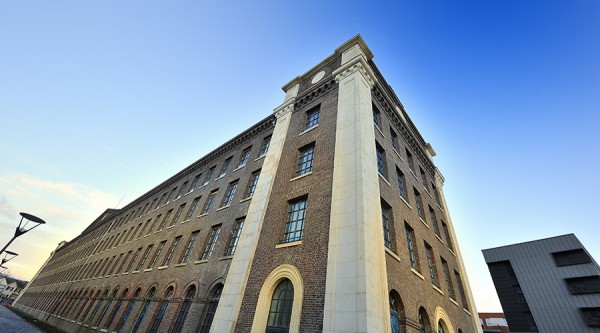 The development, dedicated to the expansion of the digital sector in Normandy, required an investment of over EUR 30 million.
Located in Petit-Quevilly, in the heart of the Rouen metropolitan area, 6 metro stops from the historic city centre of Rouen, the Seine Innopolis centre of excellence has 9,865 sq. m of floor space in a former industrial building (a spinning mill with 5 floors), listed in the supplementary inventory of historic monuments of France. With its wide range of real estate (business incubator, business service centre, meeting and event rooms, meeting places), it hosts nearly 80 companies, from project backers to large groups as well as start-ups and SMEs.
The construction includes the features needed to deploy ICT activities (dual secured optical fibre network, fibre connections to work areas, pooled computer room, storage rooms, secure access, etc.).
It is also the scene for the #NWX  "Digital Canteen"  with a co-working area to promote exchanges between project promoters and entrepreneurs to encourage creativity and innovation.
As the new standard-bearer for ICT in Rouen, Seine Innopolis is also situated in the centre of a location particularly conducive to the development of the digital economy with dynamic professional associations such as #NWX and the Normandy ICT Club, and major events such as E-MK, the #NWX Summer Festival, the Start-up weekend, the Normandigital, Carrefour des possibles, Apéroweb, to name but a few.
The proximity of 4 university campuses, schools for engineering (National Institute of Applied Sciences (INSA), ESIGELEC graduate engineering school) and business (Neoma Business School), a particularly well-endowed R&D network, the IT Data and Information Processing and Systems laboratory (LITIS), the Campus for the Integration of Embedded Systems (CISE), the Normandy Computer Resource Centre (CRIHAN), Innoventé, etc.), a dense network of users of ICT added-value service providers, industrialists and logistics specialists, these various parameters also represent serious advantages for companies that choose to locate here.
Would you like more information about Seine Innopolis? Establish and grow your business in this major ICT hub? Fill in the form below or contact Rouen Normandy Invest on +33 (0)2 32 81 20 30.
---
---