Rouen Normandy Invest, the economic development agency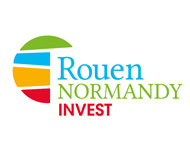 Combining the Rouen Normandy Metropolitan Authority, the Chamber of Commerce and Industry, the Port and the University of Rouen and many companies, Rouen Normandy Invest is the economic development agency for the Rouen Normandy Metropolitan area.
The agency is in charge of promoting Rouen Health Innovation. It also aims to facilitate the reception of innovative companies and technological cooperation between research and industry. It helps to promote and develop businesses in the Cluster through the trade events it organizes or in which it participates.
---
---