WE HUB, an office program south of Rouen
On a plot of nearly 3 hectares, located in the south of the Rouennaise metropolis, the "We Hub" program carried out by ADIM Normandie Center, whose designer is the PAUMIER Architectes / LALU Paysagiste agency, is integrated into a wooded environment, in the immediate vicinity of Rouen Madrillet Innovation, a technological business park bringing together engineering schools, companies, research centers (2,500 jobs, 80 companies, 7,000 students) "We Hub" benefits from its facilities in a highly qualitative working environment and a set of services tailored to the needs of employees.
Description

Overall floor area: approx. 18,000 sq.m


5 office buildings of 2,500 sq.m useful (divisible floors of approximately 630 sq.m) offered for rent or for sale (delivered not partitioned)

A 3 * hotel of 2,100 sq.m (70 rooms)

Two restaurants of 820 sq.m useful

A service center made up of a crèche, a catering area and a fitness center on 3 levels (1900 m2 SU)

Carbon Energy label for the hotel and the 5 office buildings. Energy performance RT2012 – 15% for the hotel and the 5 office buildings. HQE BD 2016 certification for the 5 office buildings. "WE HUB" is also the first project in France to be labeled BIODIVERCITY, a label promoting the consideration and preservation of the biodiversity of real estate projects.

Covered and outdoor car parks

Building permit obtained and final Start of works: January 2020

On the market:
1st phase: building B1 / building B3: 2516 m² SU each, floors of around 630 m² offered for sale or for hire.
2nd phase: buildings B4 and B5
Estimated delivery date: 2nd quarter 2021
Situation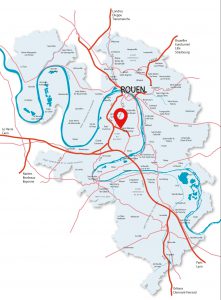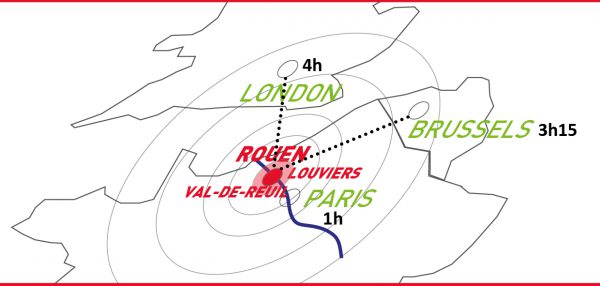 At the heart of the Rouen Normandy metropolis, within the Rouen Madrillet Innovation center of excellence

15 minutes from the center of Rouen

1 hour from Paris La Défense, directly accessible by the A13 from Paris, Caen and Le Havre

Terminus of the T4 bus line and terminus of the Métrobus network (Boulingrin – Technopôle line)

In front of the Zenith (concert hall) and the Expo Park
Assets

Direct access to HR and R&D resources: In the immediate vicinity of the R&D Pole of Excellence, Rouen Madrillet Innovation, which brings together 80 companies (Areelis Technologies, Axians, MDI Technologies, SGS Multilab, etc.) representing 2,500 jobs, 20 laboratories ( Coria, Certam, Criann, Irseem, Litis…), 4 higher education establishments and office spaces adapted to new ways of working (nurseries / hotels, coworking…).