Hémisphère : offices to rent, North of Rouen, France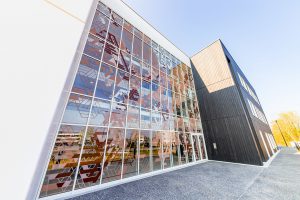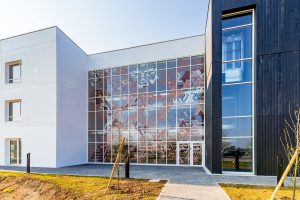 Offices for rent, located in Isneauville, within the Rouen Metropole and in the heart of La Ronce business park. Delivered in June 2019, Hemisphere is a real estate program with a total surface of 2.111sqm, of type R-2.
La Ronce business park is directly linked to the A28 / A29 Amiens-Reims, A16 Lille-Calais-Boulogne and A13 Paris-Caen motorways by expressway. Less than an hour and a half from the major cities of the North West and Paris, it covers 100 ha and offers additional services to businesses (local shops, catering center, etc.).
As an extension of the business parks of the North of Rouen, 15 minutes from downtown, it is served by the public transport line F1.
Specifications
9 independents offices from 190 to 230sqm
Shared or individual meeting rooms
Outdoor and underground parking spaces
9 plateaux indépendants (ou combinables) de 190 à 230sqm
1.426sqm divisible from 200sqm
Successful integration of art into professional life with a fresco on the front of Lek, a contemporary Street Art artist.
"Pierre de Seine is a signatory to the "1 building, 1 work" charter with the Ministry of Culture. The facade, created by the contemporary artist LEK, offers future occupants the privilege of living in daily contact with a work of art, thereby strengthening social ties and creating a strong identity for this building. "
Situation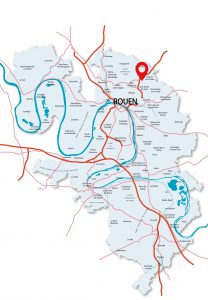 Northwest entrance of the Rouen Metropolis
Public transport nearby (F1 station)
Asset
In the heart of an office activity park, where business company are installed: CA (Crédit Agricole) Normandie Seine, Domofinance, Nexx Assurances, Agicom, MAAF Assurances, AXA, SDE 76, SFR…
Architect : Artefact
Promoter : Pierre de Seine