Village by CA Rouen Vallée de Seine, accelerator for your innovative projects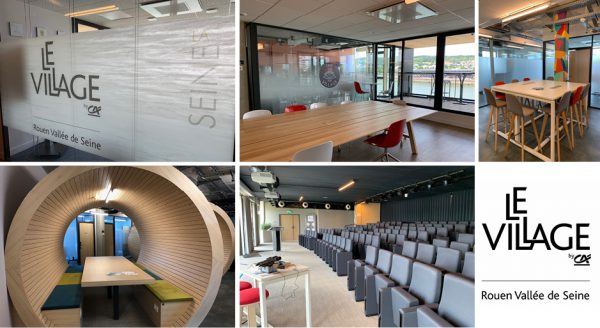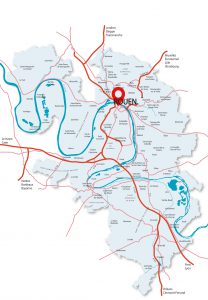 Created in February 2017 at the initiative of Crédit Agricole Normandie-Seine, Le Village by CA Rouen Vallée de Seine is a unique place that offers 1,800 m² of work spaces, but also living spaces, on the quays of the Seine in Rouen. This wonderful initiative promotes the development of innovative startups, facilitates exchanges related to innovation and digital transformation, and develops relationships between regional startups, mid-sized companies, SMEs, VSEs and decision-makers from large companies in an open innovation approach.
Description
1800m² of offices in R + 6, in a building of almost 8000m² (typical hangar)
Offer of services for startups: Premium spaces, creativity room … All rooms have screen + video, loggia access – view of the Seine
Situation
Ideally located on the banks of the Seine in Rouen, near the Paris-Rouen-Le Havre axis, between the city entrance and the historic center of Rouen, on the 1st floor of hangar 107
At the foot of the future Rouen Flaubert eco-district
Public transport: Bus line T4 – Stop "Orléans, Center-Ville Rive Gauche" or metro station "Joffre Mutualité"
Parking: 350 free spaces (access via Boulevard Jean de Béthencourt) + paid parking at the foot of hangar 107 to be reserved with the Village
Assets
Le Village is a real place of work, life, meetings and innovation
The place can also be opened to external users for the organization of professional events. Specific and modular spaces meet the needs of companies for events of 2 to 200 people (rental of meeting rooms, auditorium, creativity room, etc.), spaces that are at the same time cozy, warm, bright and functional.
On the ground floor: 3 restaurants and a contemporary art / street art exhibition room
Sports equipment on the quays
Concierge, nursery
Nearby, "Le 106", contemporary music room
Companies "living" in Le Village…
The village welcomes 22 startups who benefits for 2 years from accommodation and personalized support: Eyeneed, Greenbig, Déménager Facile, Familink, NoriPyt, Notabene.club, Monibrand, Mes parents&moi, Les Musts Bien-être, Fastpoint, ProtectECRAN, BeSMART.edu, TIBTOP, Kidsplace, DigiandCo, Boostars, Wektoo, Weem, Arkada Studio, Guru; Yoome, Adequa, Izivat.
Join-them!