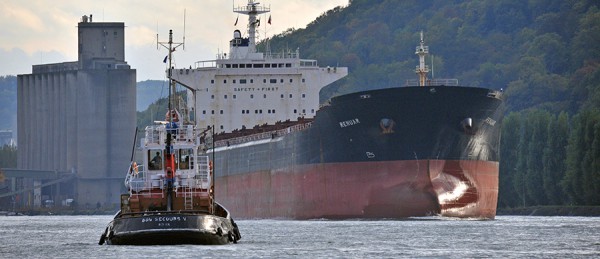 Within the HAROPA alliance, the first French logistics hub, Rouen is the estuary sea Port, halfway between the Ports of Le Havre (sea) and Paris (river). Barycentre on the Seine corridor, the Port of Rouen positions itself as a strategic crossroads of goods at the heart of Normandy and the supply chain of a consumption area of 25M inhabitants.
HAROPA port of Rouen
Total traffic : 23 Mt
2.600 ships
33 marine terminals
1st Western European grain port
More than 200 different types of products handled at import & export
Connection to 600 ports
Taking over large vessels up to 290 m long
1st French consumption market with a population density much higher than the other French ports.
The reasons to chosse HAROPA-Port of Rouen
A complete and efficient pre and post river transport using river with Le Havre, the leading French port for container traffic, road with large courier and express companies settled in Rouen, and using rail transport
2 rotations/day by truck to Paris and the major logistics hybs of Orléans and Amiens
A wide range of port services with a very strong experience
A collaborative strategy between the Port & the port community (UPR) as part of Rouen Normandy Metropolis COP21
A qualified employment pool with several training schools
Settle on the Port of Rouen
> Diversified, tailor-made land and property offers tailored to all customer needs : land at the edge of the quayside or at he back, multimodality
Petit-Couronne Quay : High potential quadrimodal area, dedicated to goods service activities: direct transhipment, storage in or out warehouses, preparation, merchandise transformation in the industrial units.
Upstream Rouen Vallée de Seine Logistics – Grand-Couronne : Multimodal sea platform (sea, river, rail and road) of international distribution, directly served by a container port terminal.
> A possibility to benefit from strong synergies with existing clusters (agro-industry, chemistry-energy, construction and logistics).