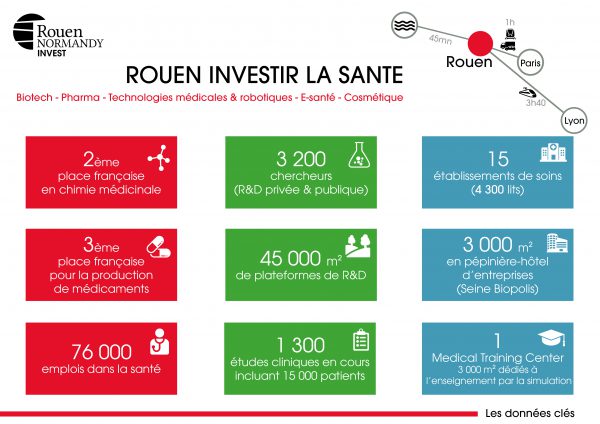 Large companies of the Rouen Seine Eure metropolitan territory
Active principle/Pharma & cosmetics: Sanofi, Janssen, Aspen, GSK, Ethypharm, Fareva, Carlo Erba Réactifs, Hermes Parfums, CCI Productions&Parfums, MSD, Frenesius Kabi
Administration system : Aptar Pharma, Plastibelle Pharm
Packaging : Autajon, Etilabel
Supply : Astera, Continental pharmaceutique, EP Dis, OCP Répartition, Planetpharma
Referring or purchasing organisations: Helpevia, Didactic, HACOM
Healthcare unit: Rouen University Hospital Centre CHU (10.400 jobs), Henri Becquerel Unicancer Centre (750 jobs), Rouvray Hospital Centre (2.000 jobs), Elbeuf-Louviers-Val de Reuil Hospital Centre (2.200 jobs)
Fundamental and clinical research
There are 2.400 researchers within the University and 4.000 within companies.
The main research networks in the Health sector are focused on cardiology, oncology, genomics, neurosciences, hadrontherapy, toxicology and medical imaging, chemistry and human sciences.
The fundamental research is organised into research structures such as the IRIB Normandy Rouen (medical biology), INC3M (chemistry), and IBiSA labelled research platforms: PRIMACEN , PISSARO , SCAC, PRESEN in Rouen and CYCERON and ESRP in Caen, and related to the CHU clinical research and anti-cancer centre of Rouen and Caen
Clinical research in Rouen in 2016
The Clinical Research House of the Rouen CHU: the Rouen CHU follows 1.030 clinical studies involving more than 6.000 people.
Henry Becquerel anti-cancer Centre: the Rouen Centre follows 126 clinical studies involving 3.000 patients.
The number of publications reaches 2.217, of which 494 are A-ranking
Rouen Health Innovation Ecosystem
Rouen Health Innovation, a network of partners and tools to develop companies' projects and innovation in the health sector:
Clinical research
R&D network (health, data, electronics, prototyping)
Medicine and Pharmacy University
Medical personnel and research training (ESITECH, ERFPS)
Medical Training Centre open to companies
Subcontracting company fabric
Consultancy companies and CROs
 Funding network, Public Funding Banks, Normandie Participation, NCI (risk capital), business accelerators, Business angels
Normandie Incubation
Business incubator-service centre Seine Biopolis
Area of activities with a potential of 30.000 sq. m floor surface area to develop in offices and laboratories.

The Pharmaparcs in Val de Reuil and in Vaudreuil
Intended to facilitate the establishment of companies and services, they concentrate around large production units and laboratories such as Johnson & Johnson, Sanofi-Pasteur, Aptar Pharma, Plastibel, Pharmalog, an ecosystem intended to facilitate BtoB relations and attractive for the human resources:
Easy establishment with more than 41 hectares of field converted for the pharmacy and biotechnology sector and 60 hectares for services and logistics.
Telecommunication local network
Computerised administrative procedure management system
Consultancy services for business leaders and start-up platform
Business incubator and service centre
Public Transport Network
Inter-company car-pooling service
Inter-company day centres working unusual hours
Hotel and catering services…
Competitiveness networks and hubs to undertake
Polepharma, pharmaceutical production cluster
Cosmectic Valley, a competitiveness hub whose role is to help industrials of the perfumery and cosmetics sector
Glass Vallée, cluster of luxury glass bottles manufacturing, perfumery and pharmacy
LSN, logistic and packaging sector