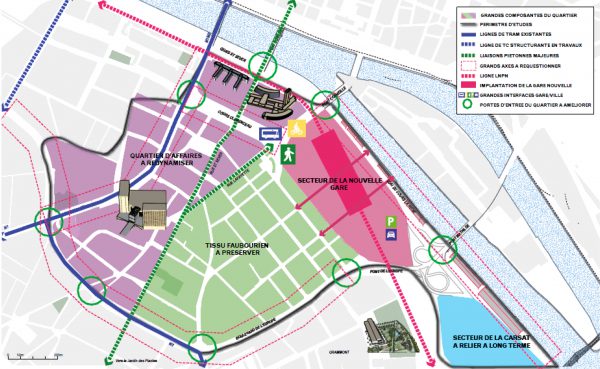 Located on the left bank of the Seine, Saint-Sever Nouvelle Gare is an ambitious district project, still in progress, linked to the new metropolitan train station construction scheduled in the plan of the New Paris Normandy Line (LNPN). At the end, it will connect Rouen to Paris Saint-Lazare in 50 minutes and improve the connections with the other cities of Normandy especially Le Havre, Caen, and Evreux, by opening the territory to every economic hubs of Normandy, but also to the well-known tourist sites of the vallée de Seine and the coast of Normandy.
First business district of the city with more than 300.000 sq.m of office buildings, the Saint-Sever Nouvelle Gare project should amplify the dynamic of the economic development and support the population reception in the city centre, closer to jobs and transports.
The planning of the Saint-Sever Nouvelle Gare district mainly aims to revitalized the tertiary real estate by using great operation of new construction as examples, such as the "Filature" (17.000 sq.m, labelled Passivhaus, built by MATMUT), of renovation such as the Normandie 1 (4.500 sq.m entirely renovated in 2015) and also aims to unify companies and jurisdictions of the entire Saint-Sever district which already assembles around 15.000 jobs.
The revitalization of this mixed city center district, that combines housing, office buildings, equipment, a large shopping centre and local businesses, also goes through the renovation of public areas and a better grip of the Seine, initiated with the development of the left bank quays. They now offer an outstanding overview on the historical centre, relaxation and breathing spaces which the city centre inhabitants and workers have immediately monopolised.
The commissioning of the new train station in 2030 will be joined by the creation of an effective and connected multimodal exchange hub, favouring car ride alternatives and guaranteeing an optimal access to the historical centre, to the other components of Rouen Seine Cité and to the regional and metropolitan territory.
For more information > http://www.saint-sever-nouvelle-gare.com/
---