ROUEN SEINE CITÉ, on the banks of the Seine, is a modern, innovative eco-district

Rouen Seine Cité is a large-scale urban redevelopment scheme which includes the historic city centre and the entertainment venues on the quays along the river Seine. The chalk-white cliffs and wooded hills in the background provide a high-quality visual and natural environment.
At the centre of the conurbation, the cities of Rouen and Petit-Quevilly, three major projects (Luciline-Rives de Seine, the Flaubert eco-neighbourhood and the district around the new railway station) meets the needs of their inhabitants in terms of housing and the challenges involved in developing innovative business activities, amenities and in the high-value added service sector.
As one of the conurbation's economic hubs, it combines services for the general public, businesses and local government departments as well as two university complexes.
Rouen Seine Cité has integrated environmental and innovation considerations to a considerable degree. The scheme has been awarded the Eco Cité label of approval and included in the French government's Investments for the Future Programme. It has also received the Eco-district label of approval, while the Luciline-Rives de Seine neighbourhood has been included in the European know-how exchange programme as part of the EU's Future Cities "Urban networks to face climate change" project. The Flaubert eco-district is co-financed by the European Union. The EU is investing in Normandy through the European Regional Development Fund.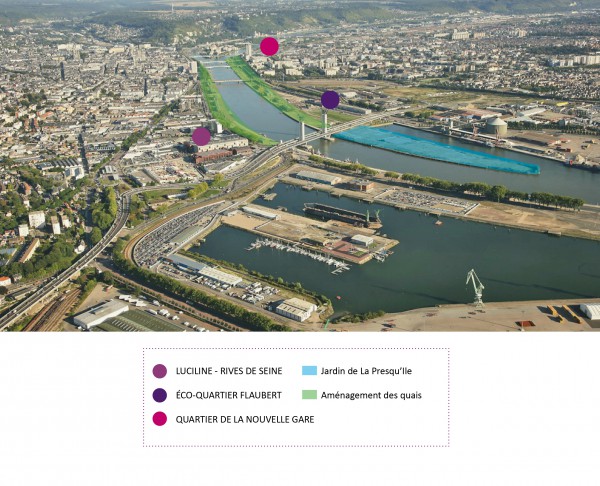 ---
---