Seinari, the innovation agency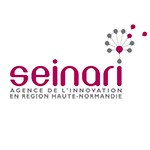 The regional innovation agency SEINARI accompanies innovative businesses in different life phases: before their creation, start-up and during their development.
It includes academic technology maturation assignments (research laboratories) and incubation, while developing wide range of services to promote and facilitate innovation.
The aim being to contribute to regional economic development and the development of technology transfer, support by SEINARI Incubation is designed to facilitate the creation of viable innovative businesses with high growth potential, particularly in the areas of Bio-Health and ICT.