RIS is at the centre of an exceptional environment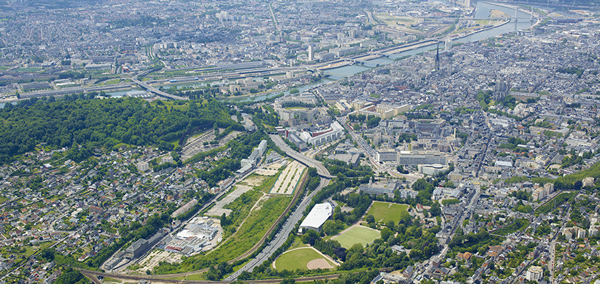 Rouen Health Innovation is at the centre of an exceptional scientific environment consisting of the Rouen University Hospital Centre (CHU), a Medical Training Centre, the Medicine and Pharmacy Training and Research Unit (UFR) and a large number of R&D laboratories grouped within the Biomedical Innovation and Research Institute (IRIB). This continuum of skills from molecules to patients, from basic research to clinical research, also includes IBiSA-approved platforms (Biology Health and Agronomy Infrastructures) combining a set of equipment and expertise in the fields of cell imaging and proteomics.
The Cluster also benefits from:
the dynamics of the Chemistry Biology Health and Cosmetic Valley competitive clusters.
the recognized scientific excellence of research units approved by the French National Institute for Health and Medical Research (INSERM), the French National Centre for Scientific Research (CNRS), and the University, particularly in the cardiovascular, genetics and cancer, digestive and nutrition, neuroscience, biological therapies, musculoskeletal immunology, dermatology and immunology areas of research
clinical excellence with the Clinical Investigation Centre certified by INSERM
the proactive development policy, resulting in technical facilities, data processing, multidisciplinary coordination, development structures, support for start-ups with 18 new businesses launched since 2003 (imaging, galenics, new medicines, bio-health, etc.)
a set of partners working together to develop businesses.
---
---