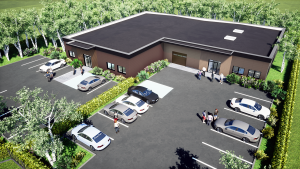 Located in the Rouen Madrillet Innovation business park, this business building with a total area of 506m² benefits from the economic development of a rapidly expanding business area.
Special attention has been paid to outdoor spaces with landscaped valleys, the preservation of existing trees and the use of local species.
Building delivery: 4th quarter 2020
Promoter/Builder: GEPPEC
DESCRIPTION
506 m² total area
Layout of offices, storage area / workshop according to customer needs, social premises
Local delivered closed and covered raw concrete
Flexibility in the adaptation of exterior joinery and networks under paving according to the customer's interior fittings
Complies with French standard RT 2012
Connected to the electricity network, gas, telecom, drinking water and collective sanitation
Closed site covered and secured by an automatic gate
Double skin cladding, smooth concrete slab, double glazed window frames and sectional door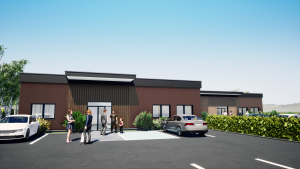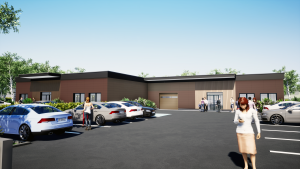 SITUATION

In the heart of Rouen, within the Rouen Madrillet Innovation activity park, which includes companies, higher education establishments and private and public laboratories.
1 hour from Paris La Défense, directly accessible by the A13 from Paris, Caen and Le Havre
Close to public transport (Line T4 and bus 27)
10 minutes from downtown Rouen
Public establishments and companies present in the Rouen Madrillet Innovation cluster:
80 companies (Areelis Technologies, Axians, MDI Technologies, SGS Multilab, etc.) representing 2,500 jobs, 20 laboratories (Coria, Certam, Criann, Irseem, Litis, etc.), 4 establishments of higher education and some office spaces adapted to new working methods (nurseries / hotels, coworking, etc.).