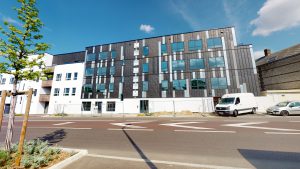 Office building with 1.098sqm of usable space, located in Petit-Quevilly and 10 minutes from Rouen, North of Paris – France.
This contemporary, ergonomic and structured office building is ideal for start-ups and SMEs who want to imagine their own workspace.
Specifications
3 offices part from 270 to 345sqm (from 135sqm)
R – 3 building
Finished offices to partition
Thermal regulation 2012-20%
Tailor-made modularity
3 Storage boxes
15 parking spaces
Reversible heating and cooling system
Optical fiber
Situation

In the heart of the Rouen area, the city of Petit-Quevilly is a young and dynamic city located close to the future Rouen Flaubert district.
Direct access to T4 and F1 bus line which joins the city centre of Rouen
Near the A13 motorway
13 minutes from Rouen train station / Le Havre-Paris line
Assets
In the heart of a new modern district
Nearby businesses company: Anider, Ressorts Masselin, RGIS, ARL Normandie Construction, Eiffage Immobilier, IDEX Energies, Eurisk, API Rouen, Direction de l'eau de la Métropole Rouen Normandie.