Seine Biopolis III - Rouen
Located in the Rouen Health Innovation hub, in an activity area of 6.2 hectares, near the university hospital campus and in connection with the R&D network, the business hotel is intended to accommodate structures in the field of health, research, biotechnology, medical robotics, artificial intelligence or OITs.
The cluster benefits from the presence of a network of international partners and global clusters such as  Cosmetic Valley, Polepharma, Valorial.
In the heart of Rouen, Normandy, France, close to the public transport network, direct access to motorways, 1 hour from Paris-La Défense.
Description
A 2,400 sq.m site
Divisible and modular office shelves (office 50 sq.m minimum)
R+3 type building with terrace
Equipped laboratories
Shared facilities: cold room, meeting room, physical and phone reception, high-speed internet, secure access.
Car park
Situation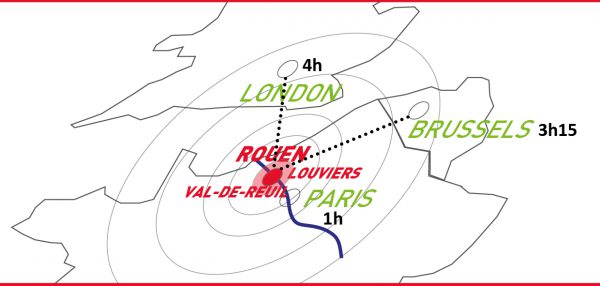 In the heart of Rouen Health Innovation, near the Rouen University Hospital and the Faculty of Medicine and Pharmacy
5 minutes from Rouen city center
Accessible by public transport by Métrobus and TEOR, direct access with the A13 (Paris / Caen motorway) and the A150 (Rouen / Le Havre motorway)
1 hour from Paris-La Défense
Assets
Professional clusters and networks: Pôlepharma, Cosmetic Valley, Glass Valley, Noveatech, Pôle TES, Medical Training and Testing Center.
A club of young biotech companies
Companies on Seine Biopolis :Robocath, Quiid, Annapaule…