Rouen Madrillet Innovation, a site dedicated to green technologies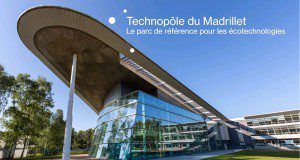 Located in the South of the Rouen Normandy metropolitan area, the Madrillet Technology Park is dedicated to the establishment of innovative companies specialized in environmental technologies, occurring especially in the sectors of energy, mobility, materials, green construction, smart systems …
It also brings together companies and research centre working in fields of expertise recognized
throughout Europe: mechanical engineering, materials, vibro-acoustics, energy, combustion, environment, electronics, data processing, and telecommunications.
Tailored hosting solutions
The Madrillet Technology Park has:
35 developed hectares immediately available.
Innovapôle 76, business incubator and service centre dedicated to innovative projects, a rental offer adapted to innovative companies in the process of launch and development produced and managed by the CCI Rouen Métropole, offering offices (from 15 to 90 sq. m) and workshops (150 sq. m) which benefit from shared services.
Seine Ecopolis, a business incubator dedicated to green construction, produced and managed by the Rouen Normandy metropolitan area which can host up to 50 companies. The young of this sector will find appropriate facilities (offices, workshops, material library …) on almost 2.000 sq. m as well as a needed support for their development. The business incubator is also completed by a plots area dedicated to the establishment of companies from the green construction sector. The Rouen Normandy Creation Network manages and organises all business incubators and service centres of the Rouen Normandy metropolitan area.
Many real-estate programs are in progress
Download "Nurseries – Business Hotels " form
5 strong reasons to relocate on the Madrillet Park
Tailored hosting solutions
35 improved hectares immediately available; business incubators and service centres …
Exceptional R&D capacities
500 researchers within 20 research laboratories and technological platforms.
A large recruitment pool
7.000 high level technical and scientific executives are trained by 4 higher education establishments.
Innovation and business networks
3 competitive hubs and 4 industrial clusters to accelerate innovative project and the commercial development of companies.
An enjoyable living environment 1 hour from Paris
An exceptional environmental quality; direct access by the A13 motorway from Paris, Caen and Le Havre.
Download the brochure Rouen Madrillet Innovation
The scientific resources
Le Technopôle du Madrillet concentre plus de 500 chercheurs et ingénieurs répartis au sein de 20 laboratoires d'excellence (dont deux Unités CNRS classées A+) et des Centres de Recherche Technologique.
Toutes ces structures mènent depuis de nombreuses années une politique de projets de R&D coopératifs en partenariat avec des entreprises, qu'elles soient grands groupes ou PME.
Celles-ci peuvent ainsi accéder à des matériels d'exception et bénéficier des compétences de pointe qui permettent d'en obtenir les meilleurs résultats.
Parmi ces structures, notons :
A ces structures dédiées à la R&D, s'ajoutent les 40 entreprises déjà présentes sur le site, parmi lesquelles SGS Multilab, laboratoire du groupe SGS (leader mondial des analyses physico-chimiques et des certifications), à ce jour l'entreprise la plus importante du Technopôle du Madrillet avec un effectif d'environ 150 personnes.
A recruitment pool
7 000 cadres techniques et scientifiques de haut niveau sont formés au sein des 4 établissements d'enseignement supérieur implantés sur le Technopôle du Madrillet :
L'offre de formation est complétée par :
Et prochainement :
The action networks
Les entreprises qui s'implantent sur la métropole rouennaise peuvent rapidement intégrer de nombreux réseaux professionnels leur permettant d'accélérer leur développement.
Dans les secteurs industriels en lien avec les écotechnologies, le Technopôle du Madrillet regroupe :
Madrillet Technology Park key figures
200 hectares including 100 dedicated to the companies' establishment.
20 laboratories
500 researchers
80 companies, representing 2.500 job
4 higher education institutions, a Polytechnic high-school and an apprentice training centre (CFA) representing more than 7.000 students, 30 higher education sectors.
3 competitive hubs
4 industrial clusters
Developer and marketer: Rouen Normandie Aménagement on behalf of the Rouen Normandy metropolitan area's contracting authority
Rouen Normandy Invest is at your disposal to make your establishment easier on the Madrillet Technology Park and help you find quickly the answers adapted to your needs.