Situated on the city of Petit-Quevilly, at the hearth of th Rouen Normandy Metropolitan, this site is intended to hosting tertiary companies and artisanal activities. It is connected to Rouen railway station by a metro line and benefits quick access to the
Paris-Caen A13 motorway.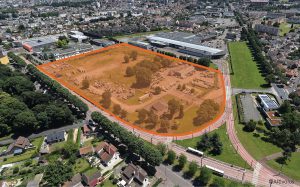 This offer fits in urban area, with a tertiary environment in the fields of health, employment and engineering. It takes advantage of the proximity of Seine Innopolis (Centre of Information & Communication Technologies and related skills). The metrobus service, as well as the neighboring businesses and services (catering, Liberty inter-company nursery), facilitate the quality of life of employees.