Business Parks situated in the cities of Val-de-Reuil and Le Vaudreuil, dedicated to health, imaging, electronics, data processing sectors companies. 50mn from Paris by A13 motorway, they offer a set of services designed to facilitate the implantation, development and creation of businesses.
Pharma-Park I, labeled SPL, dedicated to suppliers of packaging products, processors and subcontractors for the parmaceutical industries is fully marketed.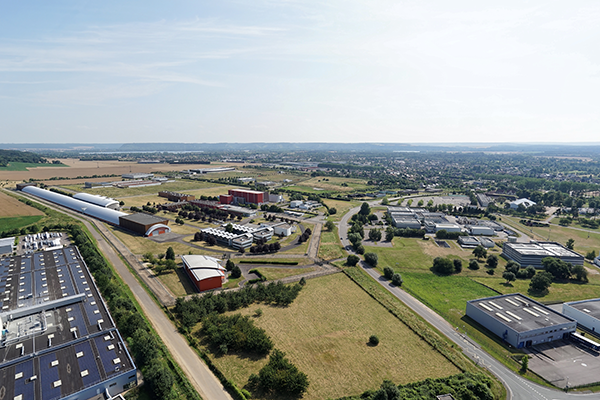 Les Portes Business Park ©Altivolus
Pharma-Park II is dedicated to biotechnological start-ups :
4 companies installed : HOLODIAG, TF CHEM, HOLOPHARM, ANGANY GENETICS
1 Regional Centre for Innovation and Technology Transfer (CRITT Analyzes and Surfaces).
The extension of the Les Portes business park with a surface area of 41 hectares, hosts state-of-theart companies and is developping a regional centre of excellence in pharmacy, imaging, electronics and data processing.
The park benefits from the implantation of two data centers (EDF and ORANGE).
The new extension of 20 hectares will be available in 2019.
All of parks offer services dedicated to facilitate the implantation, development and creation of businesses :
Public transport services and close to the train station of Val de Reuil,
High level service bus soon,
Local loop broadband telecommunications,
The SIGAME interactive tool, allowing companies to manage processes such as building
permits, impact assessment, hazard study, water legislation file…,
Les Saules business service centre,
Consultancy services for business leaders and business creation platform,
2 multi-companies nurseries Cascadine et Casibulle nearby, with a capacity of 100 cribes
operating at odd hours (5:30 to 22:30).
---