Customer relationship professions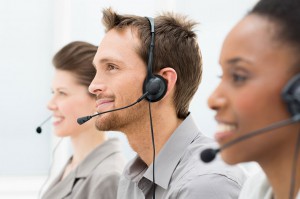 With around 30 contact centres and more than 3,000 jobs, the customer relationship sector in the Rouen metropolitan area has the ideal environment for its development, and is characterized by a high professionalism and a large diversity of services. The capital of Normandy has already won major stakeholders such as Acticall, third biggest global actor of the sector, and remains a key territory (vu qu'on parle de Rouen pour pas penser qu'on parle de la région Normandie) for the creation and installation of customer relationship centres near Paris. It perfectly illustrates Voxens, a service provider created and developed in Rouen and it is today the fundraising leader for the charitable sector.
These locations benefit from around fifty special training courses offered by institutions in Rouen but also from the presence of the Customer Relationship Club (ARC) established in 2000 at the initiative of Rouen Normandy Invest. It brings together professionals, employment partners, institutions and training organizations, its purpose being to improve the structuring, facilitation and promotion of the sector.
The activities of the Rouen contact centres are highly diversified: Banking-Insurance (Matmut, Maaf, MAE, Eurofil, Pacifica, Macif, Assutances Crédit Mutuel, Banque Postale, Crédit Agricole etc.) Customer services (Orange, EDF, SNCF ligne directe, Dalkia, Hoya Lens France, Eismann, etc.),
Surveys and polls (Médiamétrie) Hot-Line (Astera), Outsourcing (CCA International Group Acticall) or telemarketing (FPC, Voxens).