Rouen Port community, a human size proportion crossroads of goods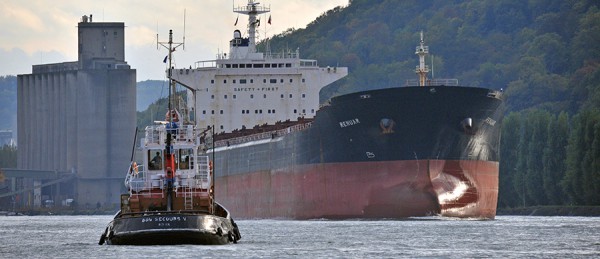 Within the HAROPA alliance, the first French logistics hub, Rouen is the estuary sea Port, halfway between the Ports of Le Havre (sea) and Paris (river). Barycentre on the Seine corridor, the Port of Rouen positions itself as a strategic crossroads of goods at the heart of Normandy and the supply chain of a consumption area of 25M inhabitants, while remaining a human size proportion ecosystem.
HAROPA port of Rouen
Total traffic in 2017 : 22.5 Mt – Sea : 20 Mt – River : 4.5 Mt
2.600 vessels and 5.000 river barges
A sea port with a direct access (without any locks) allowing the processing of large vessels (baby capasize and panama type)
A river port: particularly interesting barging of high volume traffic from/to the Paris Region
1st French consumption market with a population density much higher than the other French ports.
Assets…
Top ranking North European grain port
The willingness to develop the container import
Historic destinations: Africa and overseas departments
The environmental issue of the water path, an argument for the future
The logistics performance thanks to digital technologies on the Seine corridor, to the sea and land fluidity and to the custom and fiscal facilities.
The professional services efficiency (parking, handling, rail)
Development cost charges drawn to 1%
A better competitiveness thanks to the decrease of the port fees in 2018
Examples of investment opportunities
High potential quadrimodal area, dedicated to goods service activities: direct transhipment, storage in or out warehouses, preparation, merchandise transformation in the industrial units.
Upstream Rouen Vallée de Seine Logistics – Grand-Couronne
Multimodal sea platform (sea, river, rail and road) of international distribution, directly served by a container port terminal.