Customer relations professions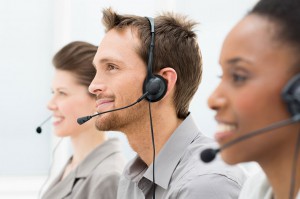 With around thirty contact centers and more than 3,000 jobs, the customer relationship sector finds in the Rouen metropolis all the environment necessary for its development. It is characterized by great professionalism and a great diversity of activities. The Norman capital has already conquered major players such as Sitel, world No. 3 in the sector and remains a privileged territory for the creation and installation of customer relations centers near Paris, which is perfectly illustrated by Voxens, a service provider created and developed in Rouen and today a leader in fundraising for the charitable sector.
These establishments are favored by the dozens of specific training courses offered by establishments in the Rouen region, but also by the very good knowledge that Rouen Normandy Invest has of this sector having supported its development in France by being a member of the AFRC (Association Française de la Relation Client) since its creation in 1998 and through its vice-presidency for regional actions for 14 years.
The activities of the Rouen contact centers are particularly diversified: Banking-Insurance (Matmut, Cardif iard, Maaf, MAE, Eurofil, Pacifica, Inter Mutuelles Assistance, Macif, Assurances Crédit Mutuel, Banque Postale, Crédit Agricole, etc.), Customer services ( Orange, EDF, SNCF Ligne Directe, Dalkia, Hoya Lens France, Eismann, etc.), Surveys and polls (Médiamétrie), Hot-Line (Astera), Outsourcing (Sitel Group, Comdata) and telemarketing (Voxens).