Food industry in Normandy
Normandy is a territory irrigated by the Seine, located between the Manche and Île-de-France, which generates exchanges with the rest of the world. With an efficient agricultural upstream (1st region for the Useful Agricultural Area, 4 billion euros of agricultural products), the Normandy agrifood sector is part of the bio-economy, particularly innovative in biomaterials, animal and human health … L he anchoring of this agro-food ecosystem promotes the establishment and development of processing sites for local production. It is also a strong marker of the Norman image and a factor of attractiveness.
Key figures
Sector of excellence (agri + agro): 100,000 jobs

630 agrifood companies

Turnover 6.3 billion

1st industrial sector in Normandy Diversity and quality of Norman products
Some companies already settled:
CARGILL, SEGAFREDO, NUTRISET, BEUZELIN, FERRERO, TOUFLET, NEXIRA, NOVANDIE, SOUFFLET, GRAIN D'OR GEL, DANONE, NESTLE, LACTALIS, …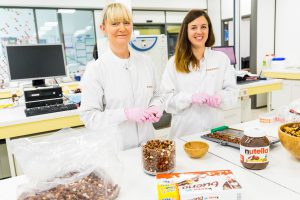 HAROPA-Port of Rouen: Agro excellence European Hub
1st West European port exporting cereals.
Its location 100 km inland makes it logistic. In addition, it is located in the heart of agricultural production areas (wheat and barley). It is characterized by:
The leading French consumer market (25 million consumers within a radius of 200 km);

Quality services at the service of shippers;

Imported raw material processing industries.
MIN of Rouen (Les Halles de Normandie)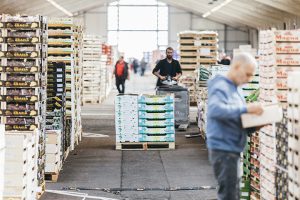 © Alan Aubry – Métropole Rouen Normandie
The MIN of Rouen, called the Halles de Normandie, is at the same time 20 ha of land, 57,000 m² of real estate and 800 jobs. The largest food products wholesale market in North-West France, it is dedicated to B2B sales. In the heart of the Rouen metropolis, it benefits from excellent road links and promotes short circuits. It presents a wide range of quality products and adapts to new modes of consumption and distribution. It is also a central element of the Territorial Food Plan supported by the Rouen Normandy Metropolis.
The companies settled on the MIN benefit from two major competitive advantages, synergy between them and logistics performance.
AREA Normandy
The objectives of this agrifood cluster are:
Animate and defend the interests of the Normandy food industry Supporting the company's performance

Accelerate its commercial development nationally and internationally

The "Saveurs de Normandie" brand promotes agrifood Normandy by relying on values: origin, quality, taste.
VALORIAL,
Agri-food Competitiveness Cluster
Its core business: identifying, setting up and supporting collaborative & innovative R&D projects Its leitmotif: to make the agrifood West the land of smarter food
UniLaSalle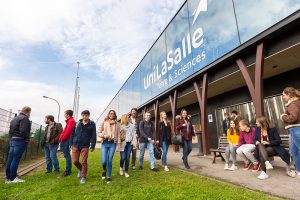 Higher education establishment of the Chambers of Agriculture network with its 2,800 students, 16,000 Alumni and 3 Beauvais, Rouen and Rennes campuses.
1st post-baccalaureate engineering school entirely dedicated to earth, life and environmental sciences in France.
The Rouen UniLaSalle campus (600 students) focuses its training activities (engineer, bachelor's, master's, specialized master's, masters of science) and research around agriculture, agro-food and non-food valuation of agro-resources. He is pursuing an international development strategy with the imminent opening of an engineering course in English.