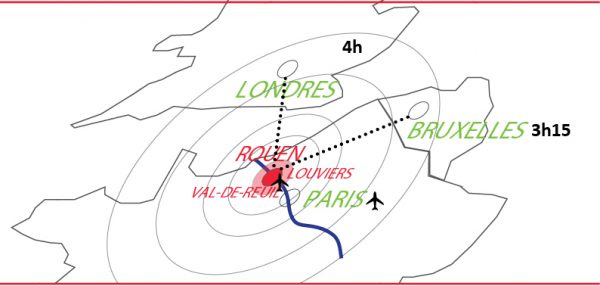 Rouen and its region, a territory in the heart of Europe !
The territory benefits from numerous high-quality motorway infrastructures (A13-A14, A28-A29, A154), which makes it easily accessible for any company wishing to settle there.
The public transport network is also developed. Three major modes of transport stand out: the metro, the bus lines and the TEOR. This allows users to move easily throughout the territory. Furthermore, the ATOUMOD card facilitates access to all transport networks (bus, train, TEOR, etc.). Indeed, the Metropolitan Pole is committed to facilitating the movement of inhabitants, employees of the territory whether they are eco-travellers or classic, using public transport. Many infrastructures are developed to promote the use of soft & eco-transport and carpooling.
Bicycle parks with free access (Vélo'R), allow the inhabitant of Rouen to move freely in the metropolis. Finally, by train as by car, the territory is located one hour from Paris-La Défense.
Several train stations are also accessible on the territory, the 2 main ones: Rouen and Val-de-Reuil (28 daily SNCF connections Rouen-Paris – 1 TGV link to Lyon and Marseille)
Close to Paris Roissy-Charles de Gaulle and Orly airports (1h30), the territory also has an airport "Rouen Seine Valley", 10 minutes from Rouen